3761 Centre St. | San Diego | 92103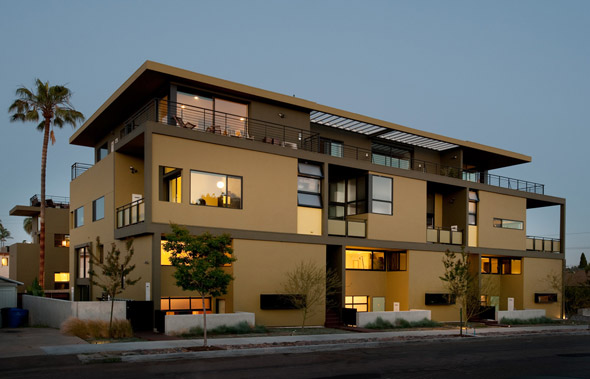 This market rate rental building is an urban infill solution that maximizes allowable density with a fine-grained approach. A courtyard scheme and rich handmade details humanize scale and promote community.
Although limited in interior space, the unit's individual and unique open floor plans engage large private outdoor spaces with sliding glass pocket doors or roll-up doors that make the units feel and live larger.
A pair of existing 60' palm trees were incorporated into the design to provide a grand yet inexpensive entry into a naturally lit and ventilated parking garage. Sculptural concrete walls were formed by the architect and a large 8' x8' pivot window was developed as a proto-type for future projects.
The building also provides affordable housing (10% at 50% AMI) and exceeds California's Title 24 by 20% thru the utilization of individual tankless water heaters and SEER 16 multi-split systems throughout the project.